Case against Navalny's associate accused of painting theft goes to court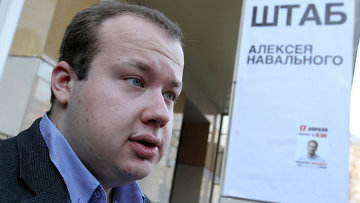 12:02 13/02/2015
MOSCOW, February 13 (RAPSI) – Indictment against Georgy Alburov, an associate of the opposition leader Alexei Navalny, accused of theft of a painting has been approved by prosecutors, the case goes to court.
The trial may begin in March, Alburov wrote on his Twitter account on Friday.
The painting, "Bad and Good Man," belongs to an artist who resides in Vladimir, a city about 200 kilometers east of Moscow. It was on public display when it was stolen by unknown persons, according to investigators.
The painting was found in Navalny's apartment in the summer of 2014.
Navalny refused to testify in this case.
Alburov was charged with theft and placed under restriction notice in September 2014. In November, another associate of Navalny, Nikita Kulachenkov, was charged in this case in absentia.
Navalny, an anti-corruption blogger, opposition leader and head of the Party of Progress who came in second in the 2013 Moscow mayoral election, has already been given two suspended sentences for embezzlement – five years in the Kirovles case and 3.5 years in the recent Yves Rocher Vostok case.