Russian investigators say no reason to doubt Savchenko's guilt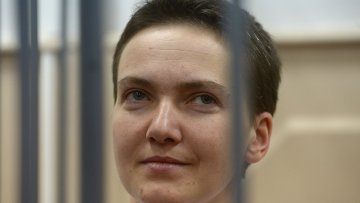 16:32 13/02/2015
MOSCOW, February 13 (RAPSI). There is sufficient evidence justifying the suspicion that Ukrainian pilot Nadezhda Savchenko is linked to the murder of two Russian nationals, official spokesman for the Investigative Committee Vladimir Markin told journalists on Friday.
Markin said that the investigators obtained Savchenko's handwritten notes that confirmed her involvement in fire adjustment, data of ballistics tests on debris retrieved from the victims' bodies, satellite images and footage from the where the journalists were killing.
All the evidence has been forwarded for further forensic inquiry, Markin added.
Following the Minsk talks that lasted from Wednesday to Thursday, President of Ukraine Petro Poroshenko announced that the parties agreed on the conditions of Savchenko's release. The Russian president's press secretary, Dmitry Peskov, however, explained that Savchenko's case was not discussed in Minsk, and it is for the court to decide her fate.
Markin concluded that Savchenko was arrested on a court warrant. Therefore, the court must further determine the extent of her culpability and punishment. Meanwhile, the investigation continues and the evidence is being confirmed.
Last Tuesday, the Basmanny District Court of Moscow extended Savchenko's arrest until May 13. She is charged with killing two Russian journalists.
TV correspondent Igor Kornelyuk and sound engineer Anton Voloshin were killed on June 17 in a mortar attack. Both journalists were later buried in Moscow. Savchenko has denied the allegations and claims that she was kidnapped in Ukraine and forcibly transported to Russia.
In mid-December, Savchenko began a hunger strike while at a detention facility. In late January, she was transferred from a regular isolation ward to a hospital for additional examination and monitoring due to long-term food deprivation.