Complaint against denial to let Savchenko go to PACE session moved to March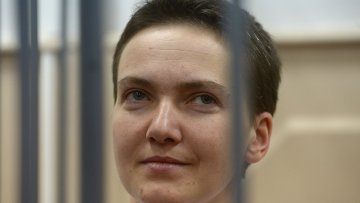 12:57 19/02/2015
MOSCOW, February 19 (RAPSI) – The Basmanny District Court has postponed until March 4 the hearing of a complaint filed by Ukrainian pilot Nadezhda Savchenko against the investigative officer's refusal to let her attend a PACE session, court press secretary Anna Fadeyeva told RAPSI on Thursday.
The defense team filed a motion to postpone the hearing, citing their workload. Savchenko refused to attend the planned hearing without her attorneys.
Savchenko's lawyers believe that her status as a Ukrainian PACE member also gives her diplomatic immunity and the right to attend PACE sessions, which no country member of the Council of Europe can prevent.
Nadezhda Savchenko was arrested in Russia last summer on charges of complicity in the murder of two Russian TV journalists during hostilities in Donbas.
TV correspondent Igor Kornelyuk and sound engineer Anton Voloshin were killed on June 17 in a mortar attack. Savchenko has denied the allegations and claims that she was kidnapped in Ukraine and forcibly transported to Russia.
She was elected a member of Ukraine's parliament from the Batkivshchyna Party in October 2014 and approved as a member of the Ukraine mission to PACE in late January 2015.