State Duma ratifies BRICS development bank agreement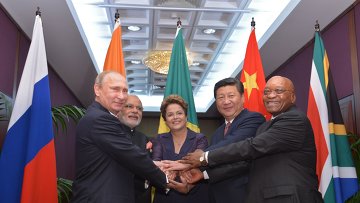 17:20 20/02/2015
MOSCOW, February 20 (RAPSI) – The State Duma on Friday ratified an agreement regarding a bank for the development of the BRICS countries, RIA Novosti reported.
The agreement on the BRICS bank was signed in June 2014 in Fortaleza, Brazil. The bank is expected to become a major international development institution with $100 billion in assets. It was set up to finance infrastructure projects both in BRICS countries and in developing countries.
The Russian Finance Ministry expects that the BRICS development bank will be launched by the end of 2015, according to Deputy Finance Minister Sergei Storchak. The 2015 federal budget already allocates funding for the bank. It is assumed that Russia will contribute $2 billion over the next seven years.
State Duma Speaker Sergei Naryshkin earlier expressed his hope that Russia's partners will also ratify the agreement this year and that the bank will provide funding for its first project.