Several services guilty of air crash that killed Total CEO - report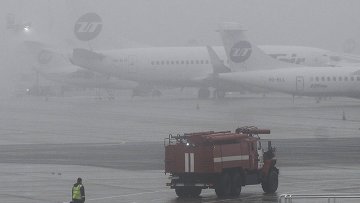 10:15 26/02/2015
MOSCOW, February 26 (RAPSI) – A technical commission has established that the crash of a French Falcon 50 airplane at Moscow's Vnukovo Airport, in which Total CEO Christophe de Margerie died, was caused by mistakes made by several different services, Kommersant newspaper writes on Thursday.
Total CEO Christophe de Margerie died in the crash of his Falcon 50 private jet shortly before midnight local time (20:00 GMT) on October 20, 2014 along with three crew members, all of them French citizens. The plane, which was scheduled to depart for Paris, hit a snow removal vehicle during takeoff.
Russian authorities detained airport engineer Vladimir Ledenev, snowplow driver Vladimir Martynenko and air traffic controller Alexander Kruglov. Air traffic control trainee Svetlana Krivsun and flight supervisor Roman Dunayev were placed under house arrest.
The airport employees stand accused of violation of air traffic rules that resulted in the death of two or more people. They face up to seven years in prison each.
All defendants have pleaded not guilty.
Russian prosecutors forwarded the case materials to their French colleagues in late January 2015.
A drunken snowplow lost its way on the runway and inadvertently blocked the Falcon's path, according to preliminary conclusions by an investigative commission, which Kommersant cited. In addition, the driver's immediate superior, who was to monitor the vehicle's movement, was inebriated, the newspaper writes. The physician, who should have checked the night crew's pulse and blood pressure, only looked them over because a closer examination would have taken time and caused flight delays.
The investigators also found that the Falcon's takeoff was monitored by a trainee controller. The young woman did not know that there were maintenance vehicles on both runways. It was her second night shift, the commission said in a report.
The Falcon's crew received permission to take off and began accelerating. The pilot was unable to stop the plane when he saw a vehicle on the runway because of the plane's speed and because no course of action for this situation was set out in the instructions issued by the plane's operator, Unijet.
As a result, the plane's right side landing gear hit the top of the snowplow and flipped the plane over.