Detained Ukrainian pilot Savchenko to undergo five new exams – lawyer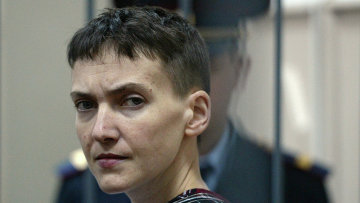 14:41 06/04/2015
MOSCOW, April 6 (RAPSI) – Ukrainian pilot Nadezhda Savchenko who stands accused of complicity in the murder of two Russian journalists will undergo five new exams, including medical evaluation, her lawyer Nikolai Polozov wrote on his Twitter account on Monday.
Savchenko was arrested in Russia last summer on charges of complicity in the murder of two Russian TV journalists during hostilities in Donbas and on illegally crossing the border into Russia.
TV correspondent Igor Kornelyuk and sound engineer Anton Voloshin were killed on June 17 in a mortar attack.
Savchenko has denied the allegations and claims that she was kidnapped in Ukraine and forcibly transported to Russia.
She was elected a member of Ukraine's parliament from the Batkivshchyna Party in October 2014 and approved as a member of the Ukraine mission to PACE in late January 2015.