Сriminal case opened over alleged embezzlement at Russia's Vostochny Cosmodrome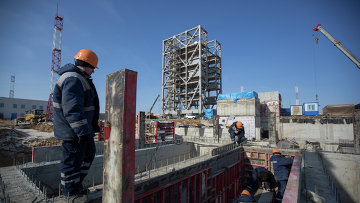 11:38 09/04/2015
VLADIVOSTOK, April 9 (RAPSI) - A criminal case has been opened over alleged misappropriation of 48 million rubles ($912,000) allocated for the construction of Vostochny Cosmodrome facilities in the Far East, the regional prosecutor's office,announced on Thursday.
The Russian Investigative Committee reported on Monday that Sergei Terentyev, CEO of Stroyindustriya-S construction company, had been arrested on suspicion of delaying workers' salary.
Investigators found that Terentyev, the director of the contractor that is building the Vostochny Cosmodrome, knew the company had the necessary funds to pay its employees but intentionally did not pay them in January, February or the first half of March 2015. According to the documents obtained in the investigation, the debt is now over 14 million rubles ($260,000).
"Prosecutors probed the alleged non-payment of wages to Stroyindustriya-S workers. They found that the company had received an advance payment of 48 million rubles for the Vostochny Cosmodrome project. However, they claim the money was spent by company management on activity unrelated to the cosmodrome project," the report states.
As a result of the audit, company management was charged with major misappropriation and spending, or embezzlement, of property entrusted to an official.
The Amur Regional prosecutor's office is supervising the criminal case.
Earlier reports indicate that on April 4, 26 construction workers at Russia's new space rocket launch site (a large project that is behind schedule) went on a hunger strike. Soon after, Yury Volkodav, acting director of Dalspetsstroy, the company that is managing Vostochny spaceport construction, promised that the arrears would be paid by April 10.
Prime Minister Dmitry Medvedev instructed Deputy Prime Minister Dmitry Rogozin to resolve the issue. Rogozin arrived at Vostochny last Monday. During his visit, he convinced the workers to stop their hunger strike and return to work.
The Vostochny Cosmodrome is under construction near the village of Uglegorsk in the Amur River region. The first carrier rocket launch is planned for this year. The first launch of a manned spacecraft is planned for 2018. The facility is scheduled to be finished by November 30, 2015.
The workers repeatedly reported that the work at some construction sites was behind schedule but they claimed they could catch up soon. In 2013, it was revealed that the government had not received complete information about the delays. Therefore, the Dalspetsstroy manager was fired.