Investigation into former Bashneft CEO Ural Rakhimov extended until July 28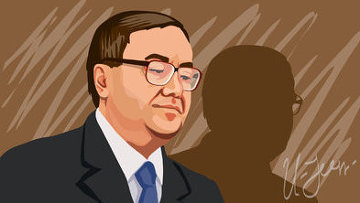 16:42 10/04/2015
MOSCOW, April 10 (RAPSI, Diana Gutsul) – Russian authorities have extended until July 28 a criminal investigation into Ural Rakhimov, former CEO of Bashneft, his lawyer Ilnur Salimyanov told RAPSI on Friday.
Bashneft was controlled by the government of Russia's Bashkortostan region until 2003, when a major stake was sold to companies affiliated with Ural Rakhimov, son of the former head of Bashkortostan Murtaza Rakhimov. The company was privatized in 2009, when Russian oil-to-telecoms conglomerate Sistema gained control of it.
A court in Moscow ruled that the privatization of Bashneft took place in violation of the law. The Prosecutor General's Office brought a suit to return a 71.6 percent stake in Bashneft to the government. The Moscow Commercial Court ruled on October 30, 2014, in favor of the Prosecutor General's Office.
Rakhimov was charged last April in absentia with embezzling and laundering over 210 billion rubles (about $3.2 billion) with his business partner Levon Hayrapetyan.
In November, he testified on his role in the privatization and sale of energy companies in Bashkortostan.