Vostochny Cosmodrome contractor's head charged with fraud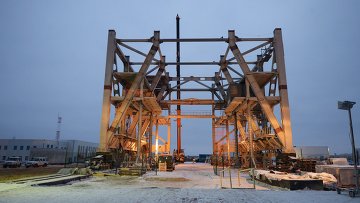 16:34 23/04/2015
MOSCOW, April 23 (RAPSI) – Igor Nesterenko, General Director of the Pacific Bridge Building Company, a contractor in the Vostochny Cosmodrome project, has been charged with wage arrears and fraud, the press service of the Russian Investigative Committee said on Thursday.
Since December 2014, Nesterenko allegedly failed to pay the salaries of 1,121 corporate employees. Although he supposedly could have paid the workers' scheduled salaries, he instructed his managers to spend the available cash on other corporate projects, according to the case files. The wage arrears exceeded 35 million rubles ($652,300) when the case against Nesterenko was opened.
Nesterenko is also suspected of embezzling 55 million rubles' ($ 1 million) worth of corporate assets while working with other suspects.
"Some wage arrears have already been repaid. Investigators are assessing the circumstances of the case, and they have conducted searches at the corporate offices, at the residences of the General Director and others. They also confiscated data carriers and other case related documents," the Investigative Committee's press service noted.
Earlier reports indicate that on April 4, 26 construction workers at Russia's new space rocket launch site (a major project that is behind schedule) went on a hunger strike. Soon after, Yury Volkodav, acting director of Dalspetsstroy, the company that is managing the construction of the Vostochny space center, promised that the arrears would be paid by April 10.
The construction of the space center, due to become Russia's main launch site, began in 2012. The facility is planned to be completed by November 30, and the first manned mission is scheduled for 2018.