Investigation into Navalny backers over election campaign extended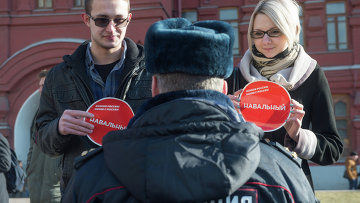 16:47 20/07/2015
MOSCOW, July 20 (RAPSI, Diana Gutsul) – Investigation into opposition leader Alexei Navalny's supporters suspected of pocketing funds designated for his 2013 mayoral campaign has been extended until October 17, attorney Sergei Panchenko told RAPSI on Monday.
The defense team plans to appeal this decision, which they regard as simply bureaucratic delay, Panchenko said.
He added that his client, Konstantin Yankauskas, a Moscow municipal legislator who stands charged with large-scale fraud, is not guilty.
According to investigators, Yankauskas and businessmen Nikolai Lyaskin and Vladimir Ashurkov each transferred 1 million rubles ($18,200) to Navalny's election account posted an online address "for web users to voluntarily refill their digital wallets, presumably to compensate for the funds that had been transferred to Navalny's account, and to support his political activity."
"As a result, over 10 million rubles (over $182,400) was transferred to these digital wallets. Investigators have reason to believe that Yankauskas, Lyaskin and Ashurkov embezzled these funds," Investigative Committee spokesman Vladimir Markin said earlier.
Last year, the Interior Ministry released a statement claiming that Yankauskas had received 5 million rubles ($91,200) via transfers to the Yandex.Money wallet, of which he embezzled 4 million rubles (about $73,000).
Ashurkov allegedly embezzled 2.27 million rubles ($41,400) and Lyaskin 790,000 rubles ($14,400).
Ashurkov, who was placed on the federal wanted list, has requested political asylum in the UK.
Lyaskin is at large.
Alexei Navalny is a Russian political and public figure, leader of the Party of Progress. He ran for Moscow mayor and is the author of one of the most popular political blogs that was banned for promoting unauthorized public protests. He has already been given two suspended sentences for embezzlement – five years in a Kirovles case and three and a half years in an Yves Rocher Vostok case.