Bastrykin calls on Domodedovo owners to pay compensation to 2011 bombing victims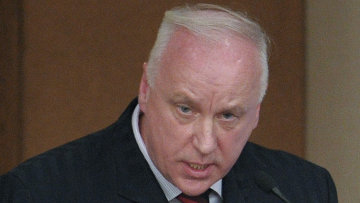 14:41 24/07/2015
MOSCOW, July 24 (RAPSI) – The owners of Moscow's Domodedovo airport would be brought to justice if they fail to pay damages to the victims of the 2011 terrorist attack that left 37 dead, Investigative Committee head Alexander Bastrykin said at a board meeting on Friday.
"The airport owners have evaded financial responsibility for five years. We have told them they must pay up or be held liable as the facility's owners and managers. We'll go through with this case," Bastrykin said.
"We have established Domodedovo owners. They didn't flee but continued to live in Moscow. We know them by name, and we are pressing them to repay the colossal damages from the terrorist attack," he said.
The Investigative Committee head added that the terrorists responsible for that attack had been brought to justice: they have been sent to prison or killed.
On January 24, 2011, a suicide bomber detonated a bomb in the Domodedovo Airport's international arrivals hall, killing 37 people and injuring 172. Doku Umarov, Russia's most wanted terrorist at the time, claimed responsibility for the attack. Altogether, 28 men connected with the terrorist organization called the Caucasus Emirate were linked to the attack, according to the investigators. Seventeen of them were killed in special operations in 2011, and four were detained.
In November 2013, a Moscow region court sentenced three men to life in prison and a fourth man to 10 years for their role in the suicide bombing.
The question of Domodedovo Airport's ownership arose back in 2011, when the investigators first stated that they couldn't determine the owner of the airport.
The Investigative Committee initiated criminal proceedings against the airport's former managers for failing to guarantee the safety of passengers, which resulted in the death of two or more people. The airport administration argued that this charge was inapplicable to the case in point and that they were only made responsible for airport entrance control in 2014, after the law on transport security was amended.
The Investigative Committee also investigated billionaires Dmitry Kamenshchik and Valery Kogan, who were suspected of being among the airport owners.