About 500 immigrants banned for life from reentering Russia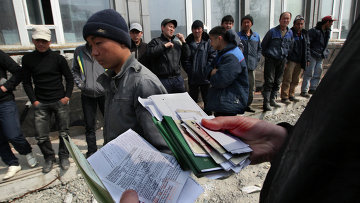 10:32 25/09/2015
MOSCOW, September 25 (RAPSI) - The Russian immigration authorities have eliminated any possibility for some 500 immigrants to ever return to Russia, RIA Novosti reports Friday citing the Press Service of the Federal Migration Service (FMS).
The migrants in question were primarily those who were being held in temporary detention facilities while awaiting deportation for breaching Russian laws.
Violating the basic immigration law is punishable by non-reentry for three, five or ten years. Over 1.5 million foreign nationals have already been banned from entry. In 2014, the FMS introduced permanent bans for foreigners who were subject to deportation and escaped the FMS detention facilities.
"There are cases of deportees leaving temporary detention facilities. These escapees are banned from entering Russia for good. Currently, there are 500 foreign nationals who can no longer enter Russia."