Russian opposition activist Razvozzhayev released from prison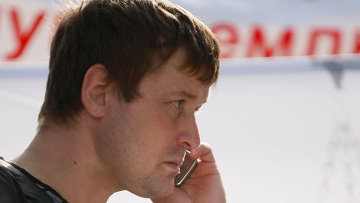 14:41 07/04/2017
MOSCOW, April 7 (RAPSI) – Russian opposition activist Leonid Razvozzhayev, who had been sentenced to 4.5 years in prison for participation in 2012 rallies in central Moscow, served his time and left a penal colony in the Krasnoyarsk Region, RIA Novosti reported on Friday citing a source in Russian security services.
Razvozzhayev was released after the time served and put under administrative supervision for two years.
Over 400 people were arrested and scores injured in the Bolotnaya Square protests that turned violent in May 2012. Dozens were later charged with inciting riots and assault on law enforcement officers.
Riot organizers Razvozzhayev and Sergey Udaltsov were sentenced to 4.5 years in prison each based partly on testimony by Konstantin Lebedev, who was sentenced to 2.5 years in prison but released on parole.
Other convicts in the riots case received punishment ranging from suspended sentences to four years in prison. Several defendants were pardoned; one is undergoing compulsory mental treatment.