Russian media watchdog deletes 40,000 materials propagating ISIS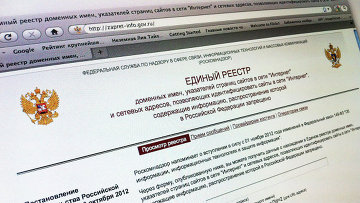 16:47 18/09/2017
MOSCOW, September 18 (RAPSI) – Russian media and communications watchdog has deleted over 65,000 prohibited materials since 2014, with over 40,000 of those being related to the Islamic State (ISIS) terrorist organization, banned in Russia, RIA Novosti reported on Monday citing Roskomnadzor high-ranking official Yevgeny Zaytsev.
Removal of content was completed in close cooperation with the Prosecutor General's Office. As soon as the Office makes a decree on the matter, Roskomnadzor must immediately block the web resource, Zaytsev said.
Roskomnadzor has received 10,000 decrees declaring certain materials extremist, including texts, video files, books and leaflets since November 2012, according to the official. About 30,000 websites were included into a registry of prohibited web resources.
The blacklist of websites was launched in Russia on November 1, 2012. The respective law envisages that websites may be blacklisted by a number of governmental agencies. Starting February 1, 2014, the register also includes websites promoting extremism and mass riots.