Single investigative body to be established in Russia – official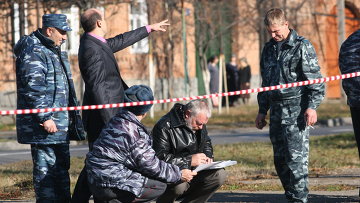 13:49 19/03/2018
MOSCOW, March 19 (RAPSI) – A single crime investigative body integrating powers of the Interior Ministry, the Federal Security Service (FSB) and the Investigative Committee will be established in Russia, the head of the Investigative Committee's Moscow department General Alexander Drymanov has said.
According to Drymanov, various state structures are carrying out simultaneous investigations and are interfering with each other's work.
On Monday, the General took part in the questioning over the criminal case against the Internal Security Directorate's ex-chief Mikhail Maksimenko, in which Drymanov asked the court to be a witness.
According to prosecutors, in 2016, Maksimenko and his accomplice received $500,000 bribe for help with one of criminal cases. He is also charged with taking $50,000 bribe in 2015 for organizing unlawful criminal prosecution of law enforcement officers in the interests of a bribe-giver.
The defendant has been arrested along with other high-ranking investigators, his deputy Alexander Lamonov and the First Deputy Head of the Investigative Committee's Moscow Directorate, General Denis Nikandrov.
The three officers were detained as part of a case over extortion of 8 million rubles (about $138,000 at the current exchange rate) that involved an alleged gang leader Zakhariy Kalashov. In addition, investigators believe that they extorted 10 million rubles (about $170,000) from a head of a large joint-stock company. The defendants deny their connections to Kalashov.
Earlier, detention of Maksimenko was extended until June 27.