Putin says negligence and slovenliness behind tragedy in Kemerovo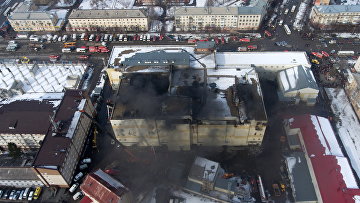 10:59 27/03/2018
MOSCOW, March 27 (RAPSI) – Russian President Vladimir Putin has said during the meeting over the fire in Kemerovo that left 64 persons dead that negligence and slovenliness are the reasons for the tragedy, the official website of the President reads.
"We talk about demographics and lose so many people. Why? Because of some criminal negligence and slovenliness," Putin said.
The fire in the Zimnyaya Vishnya (Winter Cherry) mall in Kemerovo occurred on March 25. Investigators reported that 64 persons, including children, were killed in the accident. A criminal case has been launched over involuntary manslaughter, violation of fire safety regulations that left more than two persons dead and provisions of services that don't meet safety requirements.
Five persons were arrested and questioned, including a formal head of the mall's owner company, a renter of a place where the fire allegedly began, a head and an employee in an organization maintaining the fire alarm and a guard who allegedly turned off the emergency notification system when he received a fire signal.
Investigators note that 70 persons were questioned as witnesses and allegedly numerous violations made during the mall construction were found. It was also revealed that fire exits were blocked.