Human Rights Council seeks for health protection steps toward Crimean terrorism convict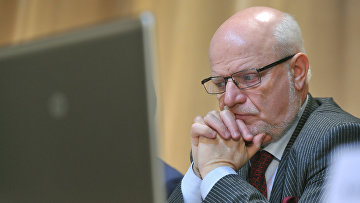 15:35 19/06/2018
MOSCOW, June 19 (RAPSI) - Chairman of the Presidential Council for Human Rights Mikhail Fedotov has requested the Federal Penitentiary Service (FSIN) to take prompt health protection actions toward Ukrainian activist Alexander Kolchenko sentenced to 10 years in Russian prison for plotting terrorist attacks in Crimea, the statement published on the advisory body's website reads.
Fedotov also asked the Chelyabinsk Region's ombudsman Margarita Pavlova to check Kolchenko's confinement conditions, according to the statement.
Earlier, Ukraine's human rights commissioner Lyudmila Denisova appealed to Fedotov for taking steps necessary to respect Kolchenko's rights.
On June 8, Kolchenko decided to end his 7-day hunger strike. After finishing the hunger strike he was placed in a medical unit. His health state was not alarming, according to Pavlova.
In August 2015, the North Caucasus District Military Court sentenced Ukrainian film director Oleg Sentsov to 20 years in prison for organizing a terrorist group in Crimea. His accomplice Kolchenko received 10 years in prison. Two other defendants, Aleksey Cherniy and Gennady Afanasyev were given 7 years in prison each.
Investigators found that Sentsov started a terrorist group in Crimea, a branch of the Right Sector movement that is banned in Russia. He was allegedly promoting Crimea's secession from Russia.
The Investigative Committee claims that between April and May 2014, the defendants set Crimean NGO, Russian Community, offices on fire in Simferopol and were charged with doing the same at the local United Russia office. The defendants were also charged with attempting to blowup a statue of Lenin in Simferopol on May 9, 2014.
According to the Prosecutor General's Office, Russia's Federal Security Service prevented the terrorist group from committing other alleged terrorist activity in May 2014. Two other defendants in this case, Alexei Chirny and Gennady Afanasyev, have been sentenced to seven years each in prison.
Sentsov denied all charges against him. He said he had never been a member of the Right Sector and that the investigators had no evidence against him.