Putin allows for prisoner swap between Russia and Ukraine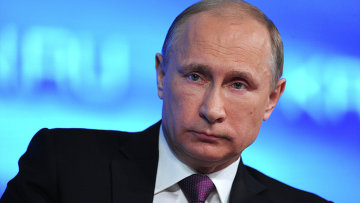 15:02 20/06/2019
MOSCOW, June 20 (RAPSI) – President Vladimir Putin during his annual television call-in show on Thursday said that the issue of prisoner exchange between Russia and Ukraine is within the field of authorities' view.
Possible release of Ukrainian sailors charged with illegal border crossing in the Kerch Strait is still being discussed; questions like that should be resolved in an integrated manner, Putin stated. It is also necessary to think how the fate of Russian citizens imprisoned in Ukraine will be decided, he added.
In spring, the Lefortovsky District Court of Moscow extended detention of 24 Ukrainian sailors until late July.
On November 25, 2018, Russian border guard officers had to engage a weapon to stop unwarranted maneuvers of three Ukrainian ships in Russia's territorial waters in the area of Kerch Strait. The ships were seized while 24 crew members were arrested. Three sailors were wounded.
Simferopol and Kerch courts ruled the sailors be detained. On November 30, all of them were transferred to Moscow.