Pilots of crash-landed Airbus awarded title of Hero of Russia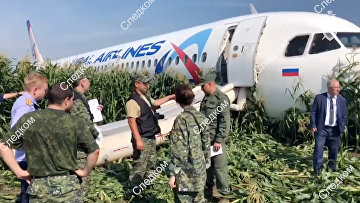 17:12 16/08/2019
MOSCOW, August 16 (RAPSI) – President Vladimir Putin on Friday signed an order awarding the title of the Hero of Russia to Damir Yusupov and Georgy Murzin, the command pilot and the second pilot of a Ural Airlines plane that crash-landed in a cornfield in the Moscow Region on Thursday.
Other crew members will win the Order of Courage, the decree reads.
The President also expressed hope that the number of such incidents would be as low as possible.
On Thursday morning, an Airbus A-321 en route from Moscow to Simferopol crash-landed in the field shortly after departure from Zhukovsky airport. Allegedly, a flock of gulls got into the aircraft engine. All people on board survived.
The probe was launched over alleged violation of traffic safety rules. Currently, investigators are studying technical documents, the aircraft's fuel samples and waiting for the results of the flight data recorder explanation. They will also examing a bird hazard near the airport.
Earlier, Russia's environmental watchdog Rosprirodnadzor reported that an unauthorized dump and a garbage transfer house were found at a distance of 2 kilometers from the airport, which could decoy gulls.