Conciliation center under city business ombudsman launched in Moscow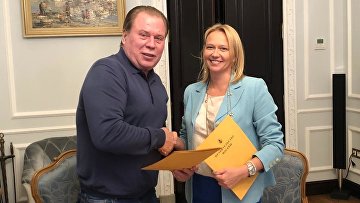 16:39 20/11/2019
MOSCOW, November 20 (RAPSI) – Center of Conciliation Procedures under Moscow's business rights commissioner Tatiana Mineyeva has been opened in Russia's capital, the ombudsman's press-service informs RAPSI on Wednesday.
The Center has been launched to facilitate conciliation and mediation procedures with participation of independent negotiators, the statement reads. According to Mineyeva, many applications addressed to her more often concern business-to-business than business-to-government relations.
The ecosystem of the ombudsman lacked just one last element, the press-service quotes Mineyeva as saying, now this element is in place and the business community has an opportunity to apply to the Center in order to settle disputes through a pre-trial process.
The Moscow business rights commissioner opened the Center together with lawyer, doctor of law, professor, Chair of the Public Council at the Interior Ministry, Honored Lawyer of Russia Anatoly Kucherena, who, as Mineyeva noted, as a mediator, lawyer and public figure had high level of credibility, so entrepreneurs would in the future turn to him for help.
According to the lawyer, at the moment all instruments a businessperson needed, when encountering a wide range of problems, were in place, so such an entrepreneur could obtain a competent advice and settle such problems in various ways. One of the most efficient methods of settling disputes amiably was mediation, Kucherena observed, adding that any disagreement could be overcome without litigation. The newly opened Center was to employ professional mediators able to provide all necessary assistance and support to businesspersons, he said as quoted by the Moscow business ombudsman's press-service.