Russia's HRC works on bill broadening use of mediation in criminal proceedings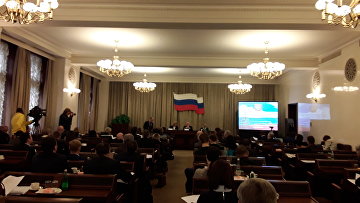 15:49 20/02/2020
MOSCOW, February 20 (RAPSI) – The Presidential Human Rights Council (HRC) is to present a bill aimed to boost the use of mediation in criminal proceedings, the body's press-service informs on Thursday.
The project is to be built on the experience not-for-profit organizations have accumulated over many years arranging conciliation procedures between an aggrieved party and that representing a defendant or a suspect without implementation of state coercion measures, or minimal use of such measures.
Earlier, the Council's Chair Valery Fadeyev has discussed the bill during a meeting with experts, representing a number of organizations, among them the Center for Judicial and Legal Reform, academics from the Higher School of Economics, and others.
The Council is to work on collecting amendments to the bill, so it could be discussed at a HRC standing commission in April with participation of representatives of the Justice Ministry, Prosecutor General's Office, Council of Judges, the Federal Chamber of Lawyers, academia, and rights advocates.
Earlier, the Supreme Court's Plenum has approved regulation of mediation in civil, commercial and administrative proceedings.
The document set requirements to court mediators, determined rights and responsibilities of parties involved and fixes principles and stages of mediation.
According to the regulation, the procedure of mediation might be undertaken at every stage upon a motion of one of the parties or at the suggestion of a court if the parties agree with it.
The Supreme Court's Plenum was authorized to approve a list of mediators which would include retired judges. However, ex-judges working in state bodies were not allowed to be mediators.
Mediation must be conducted in the form of negotiations and include statement of facts, interests of parties, formulation of questions for discussion, individual communication between a mediator and each party or their representatives, preparation of proposals for the dispute regulation, presentation of the mediation results.
Among the results of mediation set in the regulation might be an amicable agreement, withdrawal of a lawsuit or its partial or full recognition, agreement on the case's facts and others.
Mediation could be completed upon an application of one of the parties or both as well as due to the expiration of the mediation lead time or its completion by a mediator.