Every third complaint received by Russia's Ombudsman concerns violations of social rights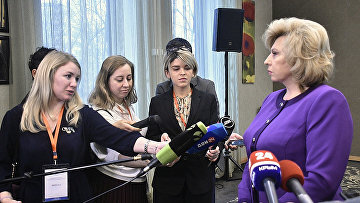 13:58 02/11/2020
MOSCOW, November 2 (RAPSI) – About 33% of complaints submitted to Russia's Rights Commissioner Office year on year touch on issues relating to violations of social rights of citizens, Ombudsman Tatiana Moskalkova informed the wrap-up Community Forum convened by the Civic Chamber on Monday.
The opening plenary session of the Forum was dedicated to the implementation of instructions given by Russia's President Vladimir Putin.
Certain amendments to the national Constitution, Moskalkova said, were applauded by the citizens as they saw that Russia, as a welfare state, was taking responsibility for improvement of people's lives. Accordingly, the Ombudsman Office established a monitoring group to keep an eye on how the situation was unfolding after the amendments had been adopted. It was registered that by this time the number of complaints somewhat declined as compared with the figures of the preceding year; 33% of these complaints concerned violations of social rights of citizens, the Ombudsman noted.
The Office had registered such complaints even before the amendments were adopted, Moskalkova said; nevertheless, the Constitutional changes inspired new hopes in the social sphere as concerns indexation of pensions, increase of minimum wages and salaries, better access to medical services, and improved quality of education. Therefore, the Rights Commissioner said, it was necessary to develop legal awareness of citizens as to these issues, and to index pensions of working pensioners.
The wrap-up Community Forum was convened to discuss such issues as challenges and consequences of the pandemic, monitoring of the All-Russian voting, demographic problems, development of the noncommercial sector and non-profit organizations with a social orientation, adjustment of national projects, as well as events dedicated to the Year of Memory and Glory.
The Community Forum is an open working platform for civic activists, representatives of NGOs and just concerned citizens ready to engage in social activities. The Forum aims at finding out best regional and federal practices of civic activism, gathering together like minded people and organizations, and providing the impetus necessary to move the development of the civil society ahead.
This year, the Forum is for the first time ever held in an online format; most activities are to be discussed on the basis of a digital platform permitting to keep live communications.