Who will lead renewed Russia's Supreme Court?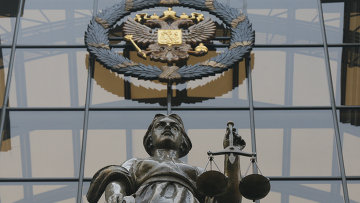 17:30 09/04/2014
Vladimir Novikov, RAPSI
By the end of the summer, Russia's Supreme Commercial Court will cease to exist. The court's powers will be transferred in their entirety to the Supreme Court of the Russian Federation under a federal law that entered into force on February 5.
Efforts to fill the court's chairmanship have been underway since early March. Applications and documents for the position will be accepted until April 17.
While the applicants gather documents and prepare for the Qualifications Board and the personnel department of the Presidential Executive Office and the Federation Council, RAPSI examines the most likely candidates.

1. Vyacheslav Lebedev, Supreme Court Chairman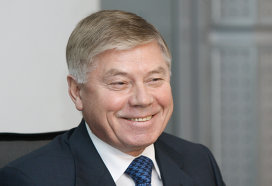 © RIA Novosti, Alexei Kudenko
Chief Justice of The Supreme Court of Russian Federation Vyacheslav Lebedev
PROS: Lebedev has the best chances to retain his role at the helm of the new combined court. Having served at the top of the general jurisdiction courts since 1989, he is experienced and well-versed in bureaucracy. Lebedev has also served under three presidents and has done quite well under Vladimir Putin. Suffice it to say that Lebedev's term as the Supreme Court chairman is not presently limited by age thanks to a presidential initiative. Lebedev enjoys a favorable reputation even among independent defense attorneys, and many credit him with safeguarding the judiciary against political interference.

Moreover, Lebedev is considered the indisputable authority by many of his subordinates – primarily, the heads of general jurisdiction courts. This is important considering that the chiefs of the regional courts account for more than half the members of the special Qualification Board that will select the candidate for the court chairmanship.

CONS: Lebedev has been blamed for all of the general jurisdiction courts' existing shortcomings: problems with transparency and the adversarial principle, a considerable reduction in the role of the jury, and a policy that seems to accommodate the investigating bodies.

Key to his election platform and among his first post-election executive orders, Vladimir Putin emphasized the imperative of making the courts more transparent, and of expanding the role of legal journalism. If one of the goals of uniting these courts is to create a "super court" that will operate in such a way as to combat these problems, Lebedev could be on his way out.

CHANCES FOR APPROVAL: 2 to 1

2. Dmitry Medvedev, Prime Minister
© RIA Novosti
Dmitry Medvedev
PROS: Prime Minister Dmitry Medvedev is considered a next-generation lawyer – Soviet approaches to justice are alien to him. In part, he initiated attempts to liberalize criminal law during his presidential term between 2008 and 2012. Owing to his experience among the country's most powerful positions, he may be particularly well suited to launch meaningful judicial reforms if given the position.
However, his candidacy is only relevant if Medvedev himself wants to occupy the seat. He has not yet publicly confirmed this point.

CONS: Medvedev has no experience as a judge. Furthermore, his appointment would also obviously entail a reshuffling of the government.

This would be a highly untimely move considering the currently difficult geopolitical and economic situations, no matter how well the gown and other regalia might suit Medvedev. Beyond that, he has no compelling reason to give up the prime minister's office.

CHANCES FOR APPROVAL: 5 to 1

3. Olga Yegorova, Moscow City Court Chairperson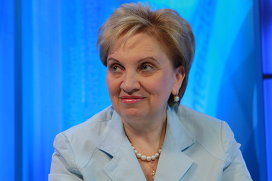 © RIA Novosti, Vitaly Belousov
Olga Yegorova, The Moscow City Court Chairwoman
PROS: Olga Yegorova has led the toughest segment of the Russian judiciary – the Moscow courts – for over a decade. She is well-established in the upper echelons of power. She is fiercely protective of those of her subordinates that have fallen under her good graces, adeptly justifying their actions and delivering impeccable reports. Speaking at a meeting on the 2013 year results, Yegorova said that the substantial increase in the workload of judges has not impacted the quality of justice. Yegorova has consistently scored toward the very top of judicial rankings.

CONS: In some respects, Yegorova has the same shortcomings as Lebedev, but there are a number of distinctions. She is tough and uncompromising.

She has been known to demand that the Qualifications Board penalizes those of her subordinates that have escaped her favor.

There are long-standing tensions between the Moscow City Court and the Supreme Court. 2013 statistics reveal a clear lack of obedience by the Moscow City Court when it comes to respecting the recommendations of the Supreme Court. These tensions will likely weigh down Yegorova's efforts to win over the support of her colleagues in less economically developed regions. Meanwhile, some of them will soon have to decide who is going to run for the top position in the Supreme Court.

That said, Yegorova is in an advantageous position and can choose to continue her career. She can submit documents to the Qualifications Board until April 17. If things go wrong, nothing prevents her from running for her current position in the Moscow City Court. The deadline for submitting documents for her current position is April 23.

CHANCES FOR APPROVAL: 10 to 1

4. Anton Ivanov, Chairman of the Supreme Commercial Court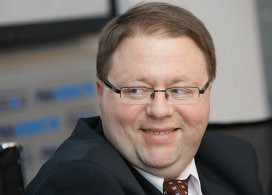 © RIA Novosti, Alexey Kudenko
Anton Ivanov, Supreme Commercial Court Chairman
PROS: Anton Ivanov is a champion from the perspective of the Russian judiciary. In under a decade, he has turned the commercial courts into a nearly perfect mechanism. He has introduced high technology (suffice it to stress the regular online broadcasts of significant hearings) and made justice open in line with current law regarding transparency.
Despite the elimination of the Supreme Commercial Court, Ivanov is participating actively in shifting the supreme judicial power to St. Petersburg, unlike some of his high-ranking colleagues. He frankly expresses his thoughts and opinions regarding the architectural merits and demerits of the future court's buildings. Thus, in simple terms, he is playing the game under fairly difficult circumstances.

CONS: A champion will always lose to a mediocre colleague who better accommodates PR and behind-the-scenes considerations.
Ivanov has learned this lesson first-hand in the past. His first such setback occurred a couple of years ago, when the terms of his supreme and constitutional court colleagues (Vyacheslav Lebedev and Valery Zorkin, respectively) were increased to almost a lifetime, while his term remained the same.

For all of his achievements, Ivanov failed to rid the commercial courts of certain lingering problems. This has been clearly illustrated in the periodic scandals in the Moscow Commercial Court. A recent example is the case concerning Irina Baranova, a judge from the court who fled to the United States after Russian investigators accused her of having assisted corporate raiders.

If the courts had merged a couple years ago, when his former classmate Medvedev was president, Ivanov would have had greater chances of heading the Supreme Court. But it is still premature to write him off as a potential candidate for the position.

CHANCES FOR APPROVAL: 10 to 1

5. Dark Horse

PROS: It would only make sense in one case to lobby a no-name candidate– if that individual wants to substantially upgrade the entire system. In this case, his name will be made known when the degree of intended modernization becomes clearer.
However, it is also possible that a famous and well-respected outsider such as Sergei Stepashin, could be proposed. Stepashin has served as the chairman of the supervisory board of a Russian state corporation since leaving the Audit Chamber. A St. Petersburg lawyer, he holds a doctorate and has a highly impressive service record. Stepashin was also the director of the FSB and even served as the prime minister earlier in his career.
CONS: There are probably more minuses than pluses to such an option. A dark horse is unknown to the broader judicial public and as such, enjoys no respect on its behalf. This may be countered by one factor – if Vladimir Putin himself insists on the nominee.
When Anatoly Serdyukov was selected for his former role as Defense Minister, few experts knew who he was. President Putin's unexpected decision has compelled many to take into account his personal preferences.
Other drawbacks with a dark-horse candidate include a lack in any real service record in the courts. Therefore, to get into the Supreme Court, even Stepashin will have to take a judge's exam, or rapidly receive the title of a Merited Lawyer of the Russian Federation. However, under these circumstances, the President's stake will override all other existing bets, as well as the lack of proverbial court experience.

CHANCES FOR APPROVAL: 20 to 1