Pussy Riot member Tolokonnikova's request for transfer to another colony rejected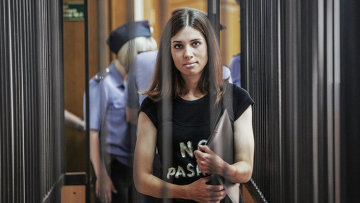 15:56 27/09/2013
NIZHNY NOVGOROD, September 27 (RAPSI) - Pussy Riot member Nadezhda Tolokonnikova's request to transfer her to another colony has been rejected, lawyer Dmitry Dinze told RIA Novosti on Friday.
Dinze couldn't say how this decision has been motivated because he didn't see the documents.
Tolokonnikova earlier declared a hunger strike, demanding the launch of an investigation into alleged threats from the prison's deputy chief to kill her. The authorities responded that Tolokonnikova had opted to go on protest and blackmail after her demands to be comfortably accommodated in prison were rejected.
In February 2012, five young women wearing brightly colored balaclavas staged a punk rock prayer in Moscow's Christ the Savior Cathedral. An edited video of their performance was posted on the Internet and caused a public outcry.
In August 2012, the Khamovnichesky District Court in Moscow sentenced Tolokonnikova and two other Pussy Riot members - Yekaterina Samutsevich and Maria Alyokhina - to two years in a prison settlement for hooliganism.
In October 2012, the Moscow City Court changed Samutsevich's verdict to a suspended sentence and released her immediately based on her new attorneys' argument that she had been seized by security guards prior to reaching the altar.
The sentences of Alyokhina and Tolokonnikova were upheld. In April 2013, the Zubova Polyana District Court in Mordovia rejected Tolokonnikova's request for parole. Alyokhina's request for parole was rejected by the Berezniki court last May.