Pussy Riot member Alyokhina's sentence appeal postponed until Oct. 18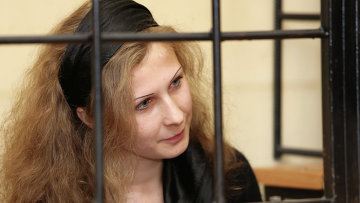 12:47 26/09/2013
MOSCOW, September 26 (RAPSI) – A Nizhny Novgorod court Thursday postponed until October 18 a hearing to settle whether jailed Pussy Riot punk group member Maria Alyokhina should be granted a mitigation for the remaining part of her sentence.
Read RAPSI's live text broadcast of the morning's events here.
The hearing was postponed based on a request by the prosecutor, who asserted that all of the aggrieved parties had not been duly informed of the upcoming hearing.
Very little happened during the course of today's hearing, as much of it was filled with break time. However, defense attorney Irina Khrunova asserted to the judge that there were problems with the profile of Alyokhina provided by the prison colony authorities. Primarily at issue, the profile lacks an opinion from the administration on whether Aloykhina deserves a sentencing mitigation.
At one point during the break, Verzilov and Alyokhina a chance to catch up. Alyokhina tells Verzilov he looks awful, to which he responds that he only slept four hours last night. Quite the charmer, Verzilov adds that Alyokhina looks wonderful.
In court for what was meant to be the actual hearing Thursday were Alyokhina herself – in the flesh, as opposed to via video link, as well as her mother Natalya Alyokhina, Petr Verzilov – husband of jailed, hunger-striking Pussy Riot member Nadezhda Tolokonnikova – and Yekaterina Samutsevich, who was initially convicted alongside Tolokonnikova and Alyokhina, but who has since been freed.
In February 2012, five young women wearing brightly colored balaclavas staged a punk rock prayer in Moscow's Christ the Savior Cathedral. An edited video of their performance was posted on the Internet and caused a public outcry.
In August 2012, the Khamovnichesky District Court in Moscow sentenced Alyokhina, Tolokonnikova and another Pussy Riot member - Yekaterina Samutsevich - to two years in a prison settlement on charges of hooliganism.
In October 2012, the Moscow City Court suspended Samutsevich's sentence and released her immediately based on her new attorneys' argument that she had been seized by security guards prior to reaching the altar.
The sentences of Alyokhina and Tolokonnikova were upheld.
Alyokhina was transferred earlier in August to serve her prison term to Nizhny Novgorod region while Tolokonnikova remains in Mordovia.
Tolokonnikova has also moved for a mitigation of the remainder of her sentence. Meanwhile, she declared a hunger strike, demanding the launch of an investigation into alleged threats from the prison's deputy chief to kill her. The authorities responded that Tolokonnikova had opted to go on protest and blackmail after her demands to be comfortably accommodated in prison were rejected.