Cravers claim innocence and seek retrial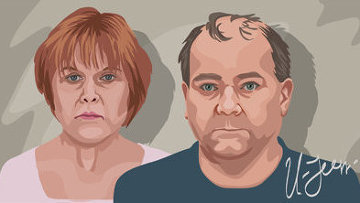 10:11 05/12/2011
NEW YORK, December 5 - RAPSI. US citizens Michael and Nanette Craver convicted for the death of their adopted Russian son claim their innocence and seek a retrial as their sentence was allegedly "against the weight of the evidence", US media reported on Friday.
Nathaniel Craver (Vanya Skorobogatov) from the Chelyabinsk region in Russia died on August 24, 2009 in a U.S. hospital from a head injury. The numerous other injuries on his body should be considered torture, the prosecution said during the trial. Doctors found over 80 injuries on the boy's body.
The Court of York County, Pennsylvania, sentenced the Cravers on November 18 to 16 months in prison and following five years on parole for involuntary manslaughter of their adopted son. However, they were released immediately after the trial as they had spent over 1.5 years in prison.
The jury has found the Cravers partially guilty, but acquitted them of premeditated murder charge. Prosecuter had sought death penalty.
The boys death and the sentence sparked public outrage in Russia and the United States.
York Dispatch newspaper quoted Cravers' attorneys Suzan Smith and Rick Robinson as saying that: "they are seeking new trials because they maintain they are innocent .. and want to have future contact with their daughter, Nathaniel's twin... Their convictions are adversely affecting them in other ways as well."