NGO appeals imposing fine for breach of electoral laws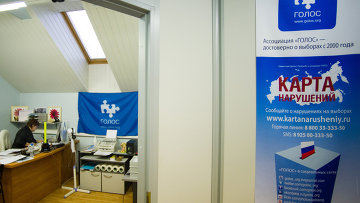 15:05 08/12/2011
MOSCOW, December 8 - RAPSI. The GOLOS association has appealed in a district court the magistrate's court decision to fine GOLOS for violating electoral law, its attorney Ramil Akhmetgaliyev told the Russian Legal Information Agency (RAPSI/rapsinews.com).
"We hold that the decision-making was accompanied by gross violations of procedure, which prevented from considering the case thoroughly, completely and without bias. We insist on reversing the decision and remanding it for review," the attorney said.
The court decided on December 2 that GOLOS had violated regulations on the media coverage of elections and referendums and fined it 30,000 rubles ($963) for breaching electoral law.
Earlier, three political parties - United Russia, Liberal Democratic Party and Just Russia -asked the Prosecutor General's Office to check the NGO's activities in terms of electoral law compliance.
GOLOS is a Russian non-profit organization founded in 2000 to protect voters' rights. It works in 48 regions across Russia.