Tymoshenko arrested for indefinite term - defense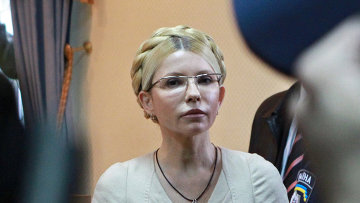 16:22 09/12/2011
KIEV, December 9 - RAPSI. Former Ukrainian Prime Minister Yulia Tymoshenko was arrested on Thursday in a new criminal case related to her activities at United Energy Systems of Ukraine (UESU) for an indefinite period, her attorney Serhiy Vlasenko said at a news conference on Friday.
A Kiev district court placed Tymoshenko under arrest on Thursday as part of a criminal case dealing with her activity at UESU.
"Yesterday I deliberately misled journalists, saying Tymoshenko was placed under arrest for two months. Actually, it is not true. I deliberately misinformed them because I did not have the text of the court's judgment at the time. Tymoshenko has been arrested for an indefinite term," Vlasenko said.
He read out the court order on Tymoshenko's arrest, which did not specify the term of the arrest.
"Tymoshenko has been arrested forever," Vlasenko said.
Meanwhile, the attorney emphasized that the law implies a maximum arrest term of two months.
Tymoshenko has been charged with attempting to embezzle $405.5 million in public funds, organizing the non-disclosure of foreign currency proceeds amounting to over $165 million, and tax evasion amounting to more than $5.8 million. The court conducted an on-site session at the pretrial detention center where Tymoshenko is being held as she cannot walk and remains in bed due to her poor health.
Tymoshenko was arrested in early August in connection with the "gas case." State prosecutor Lilya Frolova then said that Tymoshenko would stay under arrest for as long as the court finds it necessary. On October 11 a Kiev district court sentenced her to seven years in prison for abuse of power in signing gas contracts between Ukraine's Naftogaz and Russia's Gazprom in 2009. Tymoshenko's health has significantly worsened during her confinement.
The Kiev Appeals Court will consider on December 13 Tymoshenko's appeal against the prison sentence. The defense seeks her release on grounds of poor health.