Tymoshenko arrested in another case while in custody - attorney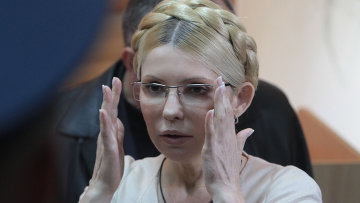 10:17 09/12/2011
KIEV, December 9 - RAPSI. A Kiev district court decided on Thursday to place former Ukrainian Prime Minister Yulia Tymoshenko under arrest as part of the criminal case dealing with her activity at the United Energy Systems of Ukraine (UESU), her attorney Serhiy Vlasenko told journalists.
According to him, the court motivated its decision by allegation that at liberty Tymoshenko may influence the investigation.
Vlasenko said the court has not heeded the arguments that Tymoshenko is behind bars now.
Vlasenko added that she was arrested for two months and her defense plans to appeal the decision within three days.
Although during the 12-hour Thursday hearing Tymoshenko stated that she did not feel well five times, but the judge went on with the hearing, the attorney said.
The court conducted an on-site session at the pretrial detention center where ex-Prime Minister Yulia Tymoshenko has been held under arrest since early August when she was tried in the "gas case". The on-site hearing was necessitated by the deterioration of Tymoshenko's health: she cannot walk on her own and is kept in the prison hospital.
In the UESU case Tymoshenko has been charged with attempted embezzlement of $405 million in public funds, organizing a non-disclosure of foreign currency proceeds amounting to more than $165 million, and tax evasion in the amount of over $5.8 million.
According to the Prosecutor General's Office Wednesday report the Ukrainian Security Service is investigating several criminal cases against Tymoshenko consolidated into one. The cases bear on her work as head of the United Energy Systems of Ukraine in the 1990s.
The Kiev Court of Appeals will start considering on December 13 Tymoshenko's appeal against the October 11 judgment sentencing her to seven years in prison for abuse of power in signing gas contracts between Ukraine's Naftogaz and Russias Gazprom in 2009. The defense applies for her release on grounds of poor health.