Court confirms Heineken trademark infringement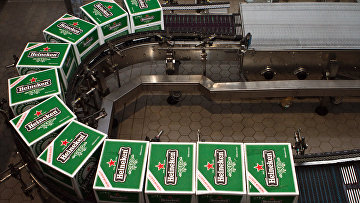 13:45 09/02/2012
MOSCOW, February 9 - RAPSI. A federal commercial court has upheld the prohibition to the Vinagroprom distillery on using labes confusingly similar to the trademark owned by Heineken Joint Breweries.
The alcohol producer contests the Nizhny Novgorod Region Commercial Court's May 13 ruling in the St. Petersburg-based Heineken Joint Breweries' lawsuit. The First Commercial Appeals Court upheld the lawsuit in October.
Vinagroprom produces Okskaya Lux vodka, while Heineken Joint Breweries owns the Okskoye trademarks.
A court prohibited Vinagroprom from using alcohol labels containing the word "Okskoye," and ordered the company to withdraw from sale and destroy counterfeit products, labels and packaging bearing the name "Okskoye." The company was also ordered to pay Heineken 1.5 million rubles ($47,500) in damages for unlawfully using the trademark.
The Dutch Heineken was established in 1863. It has been doing business in Russia since February 2002 as Heineken Joint Breweries.