Police to submit investigation on whistleblower to prosecutor's office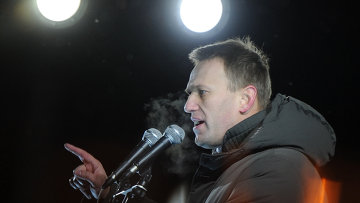 16:03 14/03/2012
MOSCOW, March 14 - RAPSI. The police will continue to look into whistleblower Alexei Navalny, who was summoned on Wednesday alongside several other activists of the RosPil anti-corruption project.
The reason for the investigation has not yet been clarified.
"The investigation initiated upon the Moscow Prosecutor's Office request will continue. Upon completing the investigation, all the documents will be submitted to the prosecutor's office for review," the Interior Ministry told RIA Novosti on Wednesday.
The police summoned Navalny and several of his RosPil supporters to the police headquarters in Moscow on Wednesday, but none of them obeyed the order.
Yesterday, Navalny wrote on his Livejournal page that he was asked to come to the police by 10:00 a.m. on March 14. He called the summons a "strange message" and noted that "we (RosPil staff) see no legal grounds to be distracted from our work, for which many thousands of people pay us."
The Moscow Prosecutors Office, in turn, declined to comment on the reason for summoning Novalny and his supporters to the police.