Preliminary hearings in Tymoshenko's new case to be held on April 19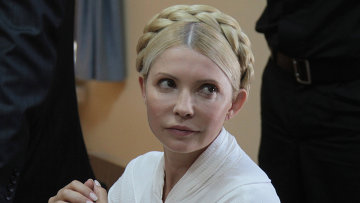 11:18 03/04/2012
KIEV, April 3 - RAPSI. The preliminary hearing of a new case against former Ukrainian Prime Minister Yulia Tymoshenko, who is this time accused of financial machinations, have been set for April 19, Tymoshenko's attorney Oleksander Plakhotnyuk said on Tuesday.
The second case deals with Tymoshenko's business activity in the 1990s when she headed the Unified Energy Systems of Ukraine. The case was submitted to court in late March.
In this case Tymoshenko is sued for $2.4 million.
Former Ukrainian Prime Minister was sentenced in October 2011 to seven years in prison for abuse of power in signing gas contracts between Ukraine's Naftogaz and Russia's Gazprom in 2009.
In late December, she was taken to the Kharkiv penal colony.
Soon after her sentencing, the tax police resumed the investigation into four criminal cases against Tymoshenko in connection with her activities as the UESU head.
Tymoshenko's supporters claim that authorities are speeding up investigation into the UESU case to keep her in prison for as long as possible.
Authorities deny any hidden political motives in Tymoshenko's prosecution.