Defense Ministry's $740k action against shipbuilder to be heard on June 29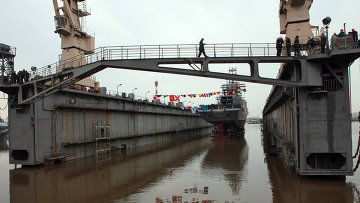 13:25 24/04/2012
ST. PETERSBURG, April 24 - RAPSI. The Moscow Commercial Court will hear the Defense Ministry's $740,000 lawsuit against Severnaya Verf shipbuilding plant on June 29.
The shipbuilder has declined to comment on the lawsuit.
The Severnaya Verf shipyard is part of the United Industrial Corporation (UIC) owned by former Senator Sergei Pugachyov. Along with other UIC's shipbuilding assets, namely the Baltiysky Zavod and Aisberg, it was pledged under 32 billion ruble ($1 billion) loan issued to Mezhprombank, which later went bankrupt in 2010.
Severnaya Verf is one of Russia's leading shipyards. It primarily produces military ships and commercial vessels.