Prosecutors disclose 19,000 violations by migration service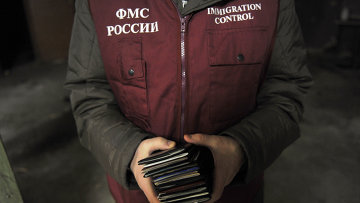 14:03 28/04/2012
MOSCOW, April 28 - RAPSI. The Prosecutor General's Office has uncovered numerous violations committed by regional branches of the Federal Migration Service, especially in migration registration and issuance of temporary residence and stay permits.
"In contravention of current laws, they have committed a large number of violations by issuing residence permits to individuals with criminal records and to those for whom they do not have sufficient information to issue the permits," says a report on the state of law and order in 2011 prepared by the office.
The Prosecutor General's Office has also pointed to multiple "and gross violations in the registration of foreign nationals at their places of residence." The report notes that the main focus of the service is compliance checks on individuals, while the majority of migration law violations are a result of unscrupulous employers using illegal migrants for personal gain.
During their inspections prosecutors exposed more than 19,000 violations of migration laws, opened almost 2,000 administrative cases and referred 57 cases to the investigative authorities for possible institution of criminal charges.