American foster mother's suit against Russian children's ombudsman set for May 28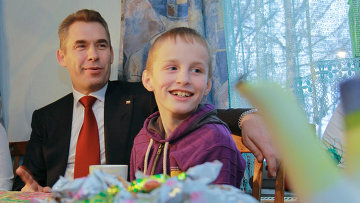 14:26 02/05/2012
MOSCOW, May 2 - RAPSI. The Moscow Tverskoy Distrcit Court will continue hearing the lawsuit by U.S. citizen Torry Ann Hansen against Presidential Commissioner for Children's Rights Pavel Astakhov on May 28.
On April 8, 2010 Hansen sent her foster son Artyom Savelyev back to Russia with a note stating that she refused to keep him in her care as he suffered from psychological problems.
The boy had only spent half a year with the Hansen family. He had spent his first few years in the Maritime Territory with his mother. When she was deprived of her parental rights, he was then taken to live in a children's home for several years.
The cause of the judicial dispute is the article, entitled "Artyom Savelyev's Foster Mother Does Not Come to Court to Testify", published in February on Astakhov's official website.
"In this article Hansen was named the boy's foster mother, although in fact she had not been the Artyom's foster mother for 9 months. Thus Astakhov made a veiled accusation against her of violating the current Russian legislation," Maria Yarmush, the plaintiffs representative, said.
She said that Hansen will not attending the hearing, because she is a nurse and bears large legal fees in other disputes.
"Astakhov continues to create a negative image of my client in the eyes of the public," Yarmush said.
The World Association for Children and Parents (WACAP) submitted a lawsuit against the Hansen family to the Bedford District Court. The organization which helped Torry Ann Hansen and her mother Nancy adopt Artyom required obligating Torry Ann Hansen, who was still Artyom's mother under law, to give 27 percent of her wage to support the boy. A U.S. court found that Hansen must pay funds to support the child. In May, the court will hear the arguments on the exact amount of support to be paid.
Artyom is nine years old. He currently lives in the Moscow Region in a large family along with five other children