Federal Antimonopoly Service disputes verdict in Gazprom lawsuit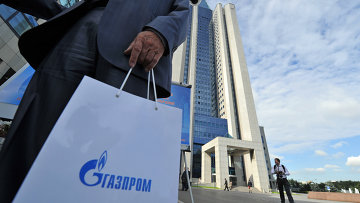 17:35 23/07/2012
MOSCOW, July 23 - RAPSI. The Federal Antimonopoly Service have filed an appeal against the Moscow Commercial Court's dismissal of its decision that Gazprom had violated competition law when holding the tender for the right to place exchange-traded bonds, the court told the Russian Legal Information Agency (RAPSI/rapsinews.com) on Monday.
In January, the Moscow Commercial Court upheld Gazproms lawsuit, cancelling the ruling of the Federal Antimonopoly Service. In May, the court of appeals upheld the position of the Moscow Commercial Court. The Federal Antimonopoly Service disputed both judgments.
The service declared in September 2011 that Gazprom had violated competition law during an open bidding for contracts on its bonds placement.
Gazprom announced the bidding results in April 2010. Renaissance Capital and Gazprombank were granted the mandate to place its bonds worth 300 billion rubles ($9.26 billion), at the time, the largest borrowing program on the Russian market.
The antitrust authority claimed that Gazprom unlawfully overstated the importance of one aspect of the bids appraisal, thus giving preference to an inferior bid.
Gazprom responded that competition law is inapplicable in the case as it never announced that the funds raised from the bond placement would be allocated for gas transfer-related activities. Therefore, the gas monopoly was entitled to determine the bid conditions at its own discretion, rather than having to strictly follow tender regulations and competition law provisions.
Meanwhile, the antimonopoly watchdog said Gazprom referred to the legislation mentioned in its tender documents and must follow them to respect the rights of all the bidders. The watchdog also admitted that it would not have sued Gazprom, if it were not for these references.
MICEX registered the Gazprom bonds placement in August 2011.
Gazprom's board of directors decided to issue 300 billion rubles ($9.26 billion) in three-year bonds at a par value of 1,000 rubles. The bonds were to be issued in a public offering on the MICEX Stock Exchange.
Gazprom's charter capital is 118.368 billion rubles ($3.65 billion), divided into 23.674 billion common shares with a par value of five rubles. Over 50 percent of Gazprom's shares are held by the state.