Hearings in second Tymoshenko trial postponed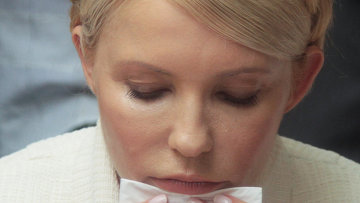 13:15 14/08/2012
KIEV, August 14 - RAPSI. On Tuesday the Kharkiv Kievsky District Court postponed a hearing into the second case against former Ukrainian Prime Minister Yulia Tymoshenko until September 11, after Tymoshenko failed to show up, Yulia Germanova, press secretary of the Fatherland opposition party's Kharkiv office, told RIA Novosti on Tuesday.
The day before the Tuesday hearing, Tymoshenko decided not to take part. In her written statement, she cited a recommendation by her German doctors that she not participate in any trials for awhile.
"The court postponed the hearing until September 11 at 10:00 am (11:00 am Moscow time)," Germanova said.
The ex-Ukrainian prime minister, who is currently serving a seven year prison term at a Kharkiv prison for abuse of power based on her signing a gas agreement with Russia in 2009, has not attended a single court hearing in the United Energy Systems of Ukraine financial manipulation case, citing poor health.
The Ukrainian Security Service initiated a criminal case against Tymoshenko and is charging her with financial manipulation involving United Energy Systems of Ukraine (UESU). The case was opened a few days after the Pechyorsky Court decision to sentence her to seven years in prison.
According to investigators, Tymoshenko, while the head of the largest importer of natural gas at the time, organized a tax evasion scheme worth almost $1.3 million.
In the UESU case Tymoshenko has also been charged with the attempted embezzlement of $405 million in public funds, organizing the non-disclosure of foreign currency proceeds amounting to more than $165 million, and tax evasion in the amount of approximately $5.8 million.