Two Moscow rioters to remain in custody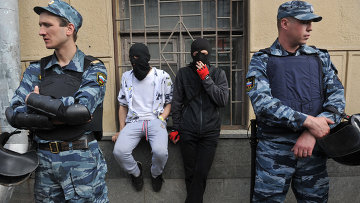 16:20 12/09/2012
MOSCOW, September 12 - RAPSI. The Moscow City Court upheld the decision to retain Stepan Zimin and Vladimir Akimenkov in custody until November 6, the court's press service told the Russian Legal Information Agency (RAPSI/rapsinews.com). Zimin and Akimenkov are suspected of having participated in the May 6 riots on Bolotnaya Square in the center of Moscow.
The court thus rejected the defense's appeal for the suspects' release or transfer to house arrest.
"We have not seen the decision in full... but now we can appeal to the European Court of Human Rights," Akimenko's attorney Dmitry Agranovsky said.
Clashes with police flared up on May 6 during an opposition march across Moscow. The public demonstration had been granted a permit by the authorities. Dozens of protesters and police officers were injured. The police detained over 400 rally participants.
In total, 13 individuals were detained in the investigation: Alexandra Dukhanina, Andrei Barabanov, Maxim Luzyanin, Yaroslav Belousov, Rikhard Sobolev, Vladimir Akimenkov, Oleg Arkhipenkov, Fyodor Bakhaov, Artyom Savyolov, Alexander Kamensky, Mikhail Kosenko, and Stepan Zimin. Kamensky was later released and no charges were brought against him. Maria Baronova, who was released on her own recognizance, is also a suspect in the case.
Luzyanin, Barabanov, Zimin, Lutskevich, Dukhanina, Belousov, Savyolov and Kosenko were charged with inciting the riots. Almost 1,300 people were called on to testify in the case.