Opposition protester's arrest extended until November 6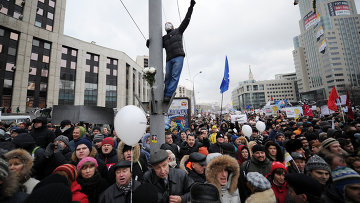 17:57 24/09/2012
MOSCOW, September 24 - RAPSI. The Basmanny District Court in Moscow has extended until November 6 the detention of Alexei Polikhovich, who has been charged with participating in the violent riots that swept Central Moscow on May 6, the court told the Russian Legal Information Agency (RAPSI/rapsinews.com) Monday.
The charges against Polikhovich carry a maximum punishment of eight years in prison.
Clashes with the police flared up on May 6 during an officially sanctioned opposition march across Moscow. Dozens of protesters and police officers were injured. The police detained over 400 rally participants.
After May 6, the opposition continued its protests in the form of "people's promenades," wherein crowds of opposition activists strolled peacefully through the city in a show of opposition. In June, investigators searched the homes of the rally organizers and participants, including those of Alexei Navalny, Sergei Udaltsov, Ilya Yashin, and Boris Nemtsov.
Judge Olga Solopova sided with the investigator, who claimed the defendant posed a flight risk.
Answering the judge's questions, the investigator said Polikhovich's involvement in the protest has been proven by witness testimonies, as well as videos demonstrating his unlawful conduct toward police officers.
In particular, a police officer claimed that Polikhovich tried to break another protester loose from an officer's grip. Although Polikhovich wore a medical mask, the officer recognized his figure.
The defendant had denied the charges, and added that he has no intention to escape.