First investigation into Moscow's May riots completed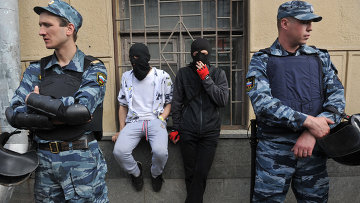 11:29 04/10/2012
MOSCOW, October 4 - RAPSI. The investigation into the first case of the Moscow riots this May has been completed, Investigative Committee spokesman Vladimir Markin stated on Wednesday.
"Investigators maintain that on May 6, 2012 [Maxim] Luzyanin stood between Bolotnaya Embankment and Bolotnaya Square and threw a lump of asphalt at an Interior Ministry Junior Marksmanship Instructor who was enforcing law and order during the mass event," said Markin.
According to the committee, Luzaynin used force against some other police officers as well.
"Luzyanin, together with some other riot participants, grabbed a riot police officer's protective helmet, bullet-proof vest and gas mask from him and took away his rubber truncheon. Then they punched and kicked the police officer in the head and the body," Markin said.
The investigation holds that he also knocked over three other police officers during the riots.
Luzyanin's case has been submitted for approval of the indictment and its subsequent filing with the court to be considered on the merits.
Anastasia Rybachenko, another protester suspected of rioting, was placed on the wanted list on September 11, Markin added.
Clashes with police flared up during an opposition march in Moscow on May 6. The public demonstration had been granted a permit by the authorities.
Dozens of protesters and police officers were injured, while the police detained over 400 rally participants.
In June, investigators searched the homes of the rally organizers and participants, including those of Alexei Navalny, Sergei Udaltsov, Ilya Yashin, and Boris Nemtsov. Thirteen individuals were detained in the investigation - Alexandra Dukhanina, Andrei Barabanov, Maxim Luzyanin, Yaroslav Belousov, Rikhard Sobolev, Vladimir Akimenkov, Oleg Arkhipenkov, Fyodor Bakhaov, Artem Savyolov, Alexander Kamensky, Mikhail Kosenko, and Stepan Zimin.
Kamensky was later released. No charges were brought against him.
Maria Baronova, who was released, is also a suspect in the case.
Luzyanin, Barabanov, Zimin, Lutskevich, Dukhanina, Belousov, Savyolov, and Kosenko were charged with inciting the riots. Nearly 1,300 people were summoned to testify in the case.