Freed Pussy Riot member goes to ECHR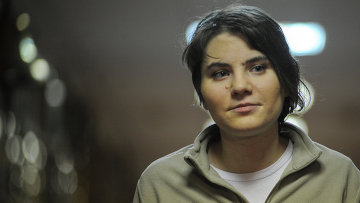 10:18 19/10/2012
MOSCOW, October 19 - RAPSI. Yekaterina Samutsevich, the only Pussy Riot punk band member to have been released on probation, has filed an application with the European Court of Human Rights claiming the violation of her right to freedom of expression, that she was unlawfully prosecuted, and that her arrest was unfounded, Kommersant daily writes on Friday.
In late February, five young women wearing brightly colored balaclavas performed a "punk-style" prayer at the altar of Moscow's Christ the Savior Cathedral. An edited video of their performance was posted on the Internet and caused a public outcry.
The Khamovnichesky District Court sentenced three Pussy Riot members to two years in prison on August 17.
Later, the Moscow City Court commuted Samutsevich's sentence from two years in prison to immediate release on probation due to the fact that she was detained by security prior to reaching the stage, and so did not actually participate in the protest act.
The judge left Pussy Riot members Maria Alyokhina and Nadezhda Tolokonnikova's sentences unchanged.
"Samutsevich's defense lawyer Irina Khrunova claims that even a conditional sentence for expressing an opinion is in breach of Article 10 of the European Convention on Human Rights guaranteeing the freedom of speech," Kommersant quotes from the application.
Khrunova added that she will be filing an extensive application with the ECHR before the year end. This kind of application may be lodged immediately after the sentence has been contested.