Convicted Pussy Riot members sent to prison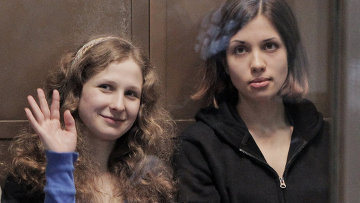 11:04 22/10/2012
MOSCOW/PERM, October 22 - RAPSI. The convicted Pussy Riot band members Maria Alyokhina and Nadezhda Tolokonnikova, sentenced to two years in prison for disorderly conduct at the Christ the Savior Cathedral, have been transferred to prison from Moscow detention facility, their attorney, Mark Feygin, told the Russian Legal Information Agency (RAPSI/rapsinews.com).
He said that it has not yet been disclosed which of the 35 women's prisons in Russia they have been sent to.
On Monday, a number of social networks reported that Alyokhina had been transferred to a prison in the Perm Territory while Tolokonnikova had been sent to Mordovia.
The Federal Penitentiary Service's main department for the Perm Territory has not confirmed this.
"The first I heard about this was from the media," the department's spokesperson said.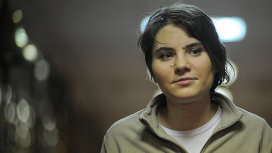 © RIA Novosti, Vladimir Astapkovich
Yekaterina Samutsevich
"In any case, I cannot disclose information on the convicts whereabouts without the convict's permission. Only close relatives are entitled to this information," he said.
In late February, five young women wearing brightly colored balaclavas performed a "punk-style" prayer at the altar of Moscow's Christ the Savior Cathedral. An edited video of their performance was posted on the Internet and caused a public outcry.
The Khamovnichesky District Court sentenced three Pussy Riot members to two years in prison on August 17.
Later, the Moscow City Court commuted fellow Pussy Riot member Yekaterina Samutsevich's sentence from two years in prison to immediate release on probation due to the fact that she was detained by security prior to reaching the stage, and so did not actually participate in the protest.
The judge left Tolokonnikova and Alyokhina's sentences unchanged.