Siberian artist's $1 claim in defense of Pussy Riot dismissed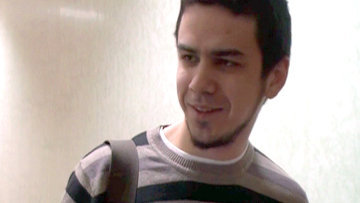 14:14 01/11/2012
NOVOSIBIRSK, November 1 - RAPSI. The Novosibirsk Kalininsky District Court has refused to satisfy artist Artyom Loskutov's lawsuit against the lawyers who attempted to recover civil damages against the convicted Pussy Riot members, the court told RIA Novosti on Thursday.
The court has not stated the reasons for the dismissal. Only the operative segment of the ruling was read at the hearing. The court will submit the statement of reasons to the parties later, the court said.
On February 21, five young women wearing brightly colored balaclavas stood at the altar of Moscow's Christ the Savior Cathedral to perform a protest song titled, "Holy Sh*t." Shortly thereafter, an edited video of the performance that was uploaded onto the Internet incited a public outcry.
Pussy Riot members Nadezhda Tolokonnikova, Maria Alyokhina and Yekaterina Samutsevich were convicted of hooliganism and sentenced to two years in prison on August 17.
Later, the Moscow City Court commuted fellow Pussy Riot member Yekaterina Samutsevich's sentence from two years in prison to immediate release on probation due to the fact that she was detained by security prior to reaching the stage, and thus did not actually participate in the punk rock prayer.
The judge left Alyokhina and Tolokonnikova's sentences unchanged.
Loskutov, who stood up for the accused women, sued the Novosibirsk law firm Ryabinina, Zinovyev and Krestyanov in mid-August.
In early August, the law firm had filed a lawsuit with the Kuntsevsky District Court on behalf of three local residents, who together sought 90,000 rubles ($2,880) in moral damages for harm allegedly inflicted upon them by the band's performance at the cathedral.
"I think they are crossing the line," Loskutov said. He added that the defendants filed the lawsuits to make money off of other people's misery and to gain publicity. While commenting to the media, he said they are inciting hatred and animosity toward Pussy Riot.
Loskutov seeks 30 kopecks ($0.01) from each lawyer involved.
"Of course, it would be great to recover 30 pieces of silver from each of them, but we don't have such currency," Loskutov said, recalling the 30 pieces of silver Judas took to betray Jesus in the Bible story.
A representative of the Russian Orthodox Church was earlier said to be involved as a third party in the case.