Verdict expected in MMA champ manslaughter case Nov. 27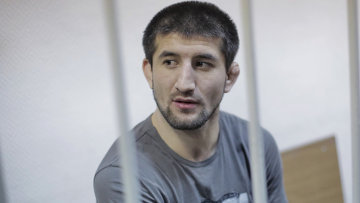 16:00 15/11/2012
MOSCOW, November 15 - RAPSI. The Zamoskvoretsky District Court of Moscow is expected to hand down its verdict in MMA champ murder case on November 27, the court spokesperson told RAPSI on Thursday.
Rasul Mirzayev has been charged with killing a student during a fight outside a nightclub in central Moscow.
During the hearings, the prosecutor asked the court to sentence Mirzayev to two years in prison. He added that one day in an investigative isolation ward is considered two days of punishment. Thus, as Mirzayev has spent over a year in such a ward, the equivalent of two years has passed.
Prior to his arrest, Mirzayev had been widely regarded as a promising MMA fighter. He was undefeated in the ring and two of his five victories were won with knockout punches. On August 16, 2011, between the incident and his arrest, Mirzayev made headlines in the MMA world for signing a professional multi-fight contract with the sponsor Bellator Fighting Championships.
Mirzayev was initially charged with intentional infliction of grievous bodily harm, resulting in Agafonov's death. During their fight outside the nightclub, the 19-year-old student received a blow to the head and collapsed. He died in a hospital days later without regaining consciousness.