Pussy Riot should sue over new book, says former attorney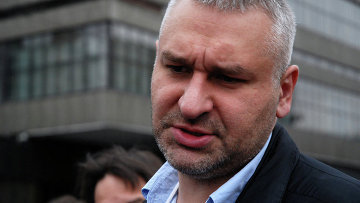 11:10 23/11/2012
MOSCOW, November 23 - RAPSI, Diana Gutsul. The former attorneys of the convicted Pussy Riot members did not sign any contracts with publishers and are advising the girls' current attorneys to sue over the publication of a book entitled "PUSSY RIOT. What was it all about?", Mark Feygin, former representative of Nadezhda Tolokonnikova, said on Thursday.
Algoritm, the publisher of the book, previously acknowledged that it had not been granted permission from the authors to publish the book, and that neither the band members nor their representatives had given their consent to its publication.
© RIA Novosti, Andrei Stenin
Pussy Riot
Information on the book has been posted on the Eksmo publisher's website, whose representatives told RIA Novosti that the book was a joint project with Algoritm.
"When I read the news about the book's publication I remembered that Id had a meeting with someone from Algoritm. We had a lot on our hands with the girls' defense in court, so we told them they could keep on working and then we would see. We didn't sign any contracts. We didn't sign anything at all. We had offers from leading European publishers, but we turned them down. Why would we sign a contract with this Algoritm company?", Feygin said.
The attorney claims that none of the three lawyers, or any of the band members signed a contract with a publisher.
Eksmo's website features a description of the book dated October 31 which says that it "provides the answers to many of the questions raised by the protest act at the Christ the Savior Cathedral which divided society into two camps - implacable opponents of the group and staunch supporters. And most importantly, the book addresses the key question for everyone - what was it all about?"