No excuse found for inaction of investigators in Dubrovka siege case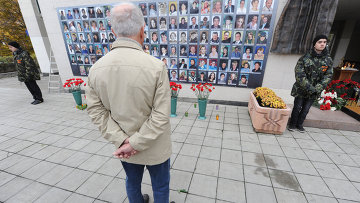 18:03 26/12/2012
MOSCOW, December 26 – RAPSI, Sariya Kiut. The Lefortovsky District Court of Moscow has found no excuse for inaction of investigators who refused to initiate a criminal case after the terrorist attack on the Dubrovka theater in central Moscow in 2002, the court spokesperson told the Russian Legal Information Agency.
In October 2002, 40 terrorists held an audience of over 900 people hostage at the Dubrovka theater. After three days of negotiations, security forces released an undisclosed gas into the building to sedate the terrorists, and then stormed the building. The gas is being blamed for the deaths of 130 hostages.
Relatives of the individuals who died insisted on thorough investigation, but their claim was dismissed.
In response to the Investigative committee's refusal, Igor Trunov, who represents the victims' relatives, filed a complaint to a Moscow district court to hold the investigators liable for their inaction. Investigators provided no clear arguments, under which they refuse to initiate a criminal case, Trunov said.
Opposition politician Boris Nemtsov also requested for the criminal case to be initiated, but his request was dismissed as well on December 31, 2002. The reason of the Investigative Committee given at the time was that none of the officials' actions constituted a crime. The committee saw no grounds to reverse its decision.
Trunov stated previously that a criminal case should be initiated under the Criminal Code for concealing information about circumstances that threaten the life or health of an individual, or lead to accidental manslaughter or the accidental infliction of harm as a result of negligence.
Relatives of Dubrovka hostages filed a complaint to the European Court of Human Rights (ECHR) against Russian authorities in 2003. On December 20, 2011, the ECHR held in favor of the applicants, but also ruled that the authorities did not violate anyone's civil rights by using gas.
On November 2, the Lefortovsky District Court of Moscow handed down the judgment authorizing to initiate a case into the aftermath of the terror attack. But the judgment was appealed and the case later went back for reconsideration.