Pussy Riot civil claim granted right to appeal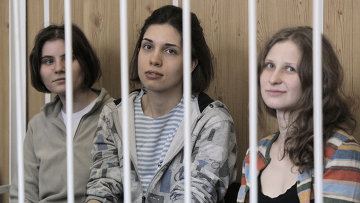 18:16 01/02/2013
MOSCOW, February 1 - RAPSI. Moscow's Kuntsevsky District Court granted a plaintiff in a civil suit against the infamous Russian punk rock group Pussy Riot the right to appeal an earlier decision to dismiss his claim, the human rights organization Agora told RAPSI Friday.
Plaintiff Yury Zadoy had missed the deadline to file an appeal, but blamed the postal service for these timeliness issues.
"The Moscow City Court is expected to handle the petition of appeal in the near future," Agora quoted Damira Gainutdinova, defense attorney for Pussy Riot member Yekaterina Samutsevich, as saying.
Zadoy and co-plaintiff Ivan Krasnitsky, both Berdsk residents, filed two claims for compensation against Pussy Riot. Another civil claim was filed by Novosibirsk resident Irina Ruzankina. All three claimants said they were offended by the Pussy Riot protest song at Moscow's Christ the Savior Cathedral and sought 30,000 rubles ($1,000) in compensation.
All the three lawsuits were dismissed.
In late February, five young women wearing brightly colored balaclavas performed a "punk rock" prayer at the altar of Moscow's Christ the Savior Cathedral.
An edited video of their performance was posted on the Internet and caused a public outcry.
The Khamovnichesky District Court sentenced three Pussy Riot members to two years in prison on August 17, 2012.
Later, the Moscow City Court commuted Samutsevich's sentence from two years in prison to immediate release on probation due to the fact that she was detained by security prior to reaching the stage and did not participate in the punk prayer. The judge left unchanged Maria Alyokhina and Nadezhda Tolokonnikova's sentences.