Absentia arrest upheld for Georgian politician accused of plotting riots in Russia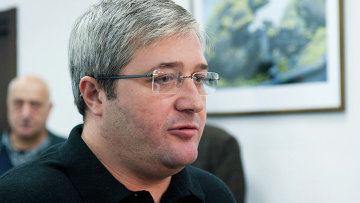 16:36 13/03/2013
MOSCOW, March 13 - RAPSI. The Moscow City Court has upheld the decision to arrest Georgian politician Givi Targamadze in absentia on charges of plotting riots in Russia, the court told RAPSI on Wednesday.
The court has rejected Targamadze's appeal against the ruling issued by Moscow's Basmanny District Court. His arrest warrant has now taken effect.
Earlier, Investigative Committee spokesman Vladimir Markin stated that the investigators have evidence proving that he financed the Russian opposition and helped them to plan the mass riots in Moscows Bolotnaya Square on May 6. A government-approved rally on Bolotnaya Square on May 6, 2012 ended in a clash with the police. Dozens of people were injured on both sides and over 400 protesters were arrested. A mass riots case was then initiated.
Meanwhile, Targamadze's court-appointed lawyer stated that the decision to arrest his client in absentia without notifying him is an abuse of his right to defense, as he was not afforded the opportunity to choose his own attorney.
"Such a high-profile case could have been prosecuted without procedural violations," he said.
Meanwhile, representatives of the Investigative Committee and the Prosecutor General's Office have asked the court to uphold the ruling.
The ruling states that Targamadze consults opposition movements in several countries and will continue his criminal activity if left at large, ultimately triggering riots in Russia. According to the court, he has connections to various groups, some of which are criminal in nature and may pressure the investigators.
Targamadze has been placed on the international wanted list and reported to Interpol.
The case was inititated after the "Anatomy of Protest 2" documentary film was shown on the NTV broadcasting network. The film claimed that the opposition was organizing a coup using funds from abroad and showed Left Front movement coordinator Udaltsov and his companions allegedly talking with Targamadze, who at the time headed Georgia's Parliamentary Defense and Security Committee, and is said to have been involved in planning the "color" revolutions in Georgia and Ukraine, as well as the mass riots in Belarus.