Opposition figurehead Udaltsov to remain under house arrest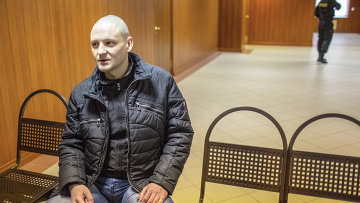 15:42 01/04/2013
MOSCOW, April 1 - RAPSI. The Basmanny District Court has extended Left Front leader Sergei Udaltsov's time under house arrest until Aug. 6, RAPSI reports from the courtroom on Monday.
The court has upheld the prosecutors' request to keep Udaltsov in isolation for another four months, extending his detention to five months and 28 days. The court ruled to further restrict the opposition leader's movements from a pledge not to leave the city to house arrest on Feb. 9, thus granting the prosecutors' motion to isolate him until April 6.
Udaltsov has been accused of organizing riots and using violence against police during a rally on May 6, 2012 in Moscow's Bolotnaya Square and organizing mass riots in Russia.
In October 2012, he was ordered not to leave the city. On Feb. 8, investigators requested to place him under house arrest, as he allegedly violated the former ruling.
Udaltsov is being prosecuted as a result of a probe into the circumstances portrayed in the highly controversial "Anatomy of Protest-2" documentary film. The film claims that Udaltsov and his supporters planned to stage mass riots and a coup using funding from the Georgian leadership, which has long been at odds with President Vladimir Putins government.