Aeroflot appeals decision to provide records to minority shareholder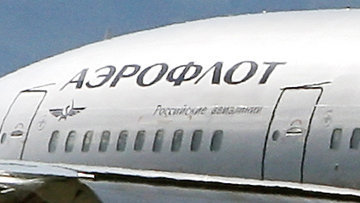 18:39 05/04/2013
MOSCOW, April 5 - RAPSI. Aeroflot has filed an appeal against a previous appeals court ruling to provide procurement records to minority shareholder Igor Shilovsky, the Moscow Commercial Court told RAPSI on Friday.
The Moscow Commercial Court rejected Shilovsky's lawsuit on Nov. 20.
In February, the Ninth Court of Appeals overruled the lower court's decision and partially satisfied Shilovsky's demands by ordering the state-controlled airline to provide him with a number of documents.
The ruling with regard to the other demands remained unchanged.
The shareholder sought to have the airline provide him with documents dated from Jan. 1 to April 30, 2012 before Aeroflot's Provisions on the Procurement of Goods, Works and Services were posted on the company's website.
Shilovsky, who owns less than 1% of Aeroflot's shares, requested information regarding the airline's procurement activities before the provisions had been approved. Earlier, he had asked the airline to provide information concerning its procurement commission. He had hoped to find out if a commission had been established and who controlled its activities. He had also requested procurement documents related to Aeroflot's business activities.
He filed the lawsuit after receiving no response.
Aeroflot said during the hearing that the required documents were provided to the plaintiff. The company's procurement records were also posted as open-access documents, Aeroflot said.
Meanwhile, Shilovsky said the company has not given him the full information. He also pointed out that Federal Law No. 223 came into force in January 2012.
Federal Law No. 223 on the purchase of goods, works and services by specific legal entities sets forth procurement guidelines for state corporations, federal state unitary enterprises and companies in which the government's stake exceeds 50%.
Pursuant to the law, the customer must approve and publish on its website in the first quarter of 2012 its provisions for purchasing and establishing procurements, as well as its procurement and contract conclusion and execution procedures.
Aeroflot is a member of the SkyTeam global alliance and is based at the Sheremetyevo Airport in Moscow. In 2011, Aeroflot transported over 14 million passengers. The Federal Agency for State Property Management is Aeroflot's main shareholder with a 51.17% stake. Around 15% of the airline is held by companies belonging to businessman Alexander Lebedev.